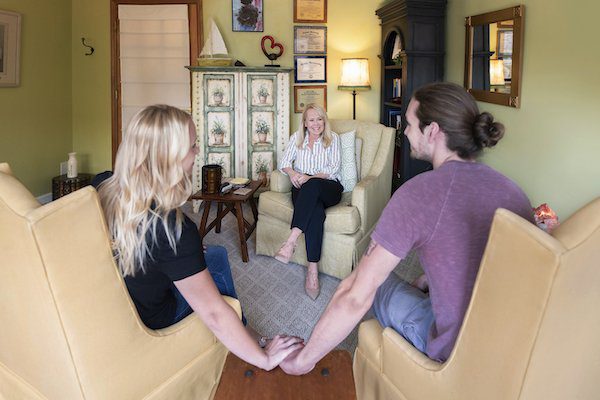 It may feel awkward to admit you need a sex therapist, but the process is similar to consulting with any other professional: a dentist, plumber or accountant.
Start by asking around. If you feel comfortable asking friends and family for recommendations, check out the counselors they recommend online. See if you like their approach, credentials, reviews and ratings.
If can also be useful to visit the website of AASECT, The American Association of Sex Educators, Counselors and Therapists. The site has information about different types of accreditation and lists of sex therapists by area.
Finally, check out one or two sex therapists in person (if they are close by) or request a phone call or video conference.
Questions To Ask A Potential Sex Therapist
During your consultation, here are some questions to ask:
What population do you focus on? You want a counselor who spends most of their time on sexual issues. If they have mostly clients in your age group, or work with LGBTQ couples and you define yourself as such, or have extensive experience in the issue you are facing, even better.
How do you define 'normal' sexuality? Look for a therapist without preconceived notions of what is healthy. How often you have sexual encounters and your range of solo and partnered sexual activities are only problematic if you and/or your partner think so.
Do you deal with both the emotional and medical components of sexual dysfunction? Run if they say "no." All good sex therapists collaborate with medical professionals to address physical roots of sexual problems.
What are your methods? You want someone who offers a number of approaches, such as:

Cognitive behavioral therapy (CBT)
Mindfulness practices
Interpersonal psychotherapy
Somatic therapy for victims of trauma
Sexual health education

Are you accredited? There are good therapists who do not have AASECT accreditation, but if a person who has been recommended to you does, you know you are consulting a qualified professional.
You Can Change Your Mind any Time
If you have a bad feeling about someone's office, staff or personality, look elsewhere. This is going to be a person you tell some of your most closely-held secrets, so you want to feel comfortable with them and confident they can meet your needs.
If you have a feeling, after the first session or two, that this therapist is not right for you, move on. Not every therapist is the right fit for every couple.